Many mainland women, barred from working and ineligible for welfare benefits, support themselves and their children, by offering themselves as prostitutes on numerous websites. These women operate in the grey area of law, and so do the websites. ANDREA DENG reports.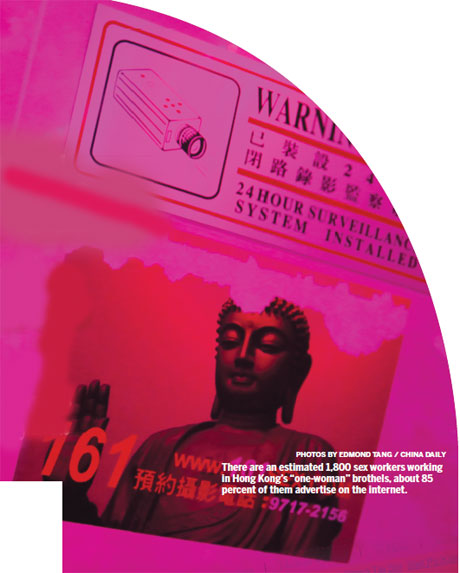 It is the pink neon signage that they are looking for. Down from the darkish stairway, kept in low-profile and usually sandwiched by shops overrun by tourists, or neighborhood grocery stores, that men find their way to the "one woman" cubicle brothels. The arousing, maybe tantalizing pink neon signs, usually hang outside the second or third floor windows of seedy tenement buildings, are conspicuous enough for those who are looking for them.
A couple of men are cruising one corridor that glows in the aura of pink neon and flickering belt lights. One wears a mask covering the nose and the mouth. On each door, is a posting, offering a brief introduction to the sexual services offered inside the cubicle. Usually it states where the girl is from, with some reference to her intoxicating figure.
A police detective noted that under the current law, these brothels operate entirely within the law. The Crime Ordinance states only that premises or places "used wholly or mainly by two or more persons for the purposes of prostitution" fall into the category of vice entertainment. The detective talked to China Daily on condition he be identified only as Ben.
But Ben noticed something different recently. An Internet company that advertises for women to prostitute themselves in these places is trying to expand, Ben said. Posters with the company's Web link are plastered to the walls outside the brothels. Small paper boards printed "Please wait" on one side and "Please bell" on the flip side, now commonly seen on the doors of the brothels, also revealed the same Website link. Ben thinks these embellishments are small gifts to prostitutes who have advertised on the site.
There are posters for other Websites, smaller, but offering the same thing. Most of the sites are registered on servers located overseas. Each site serves as an online showcase of "one-woman" brothel, with detailed information: nicknames of the girls, a dozen pictures showing the half-naked or naked woman, phone numbers, assorted services and prices, body types, address, Google map and still more photos of the entrance, to ensure that customers don't get lost trying to find the place.
The major website, identified by China Daily as "Six" , charges HK$1,100 per month for a web page at the front of the site, HK$800 for pages offering lesser exposure, according to a staff member. The charge also covers the cost of photographic services.
"People open the website in their mobile phone and they can view information about hundreds of girls. If the advertisements didn't work well, why would so many prostitutes come to us?" the staff member said persuasively.
When the staff member was asked whether the police might one day shut the website down, he did not answer directly. "If the police come to us, it would be our problem," he said.
The Police Public Relations Branch (PPRB) declined to comment on individual cases and whether these websites have broken the law — "as each case is decided on its own merits". "Based upon the circumstances of individual cases, there were previous successful prosecutions against the operators of similar websites from different law enforcement agencies in Hong Kong," said a spokesman for the police.
There's little doubt the staff and management behind the websites may well be working outside the law, Ben said. He says there's enough signs to raise suspicion that the site's operators are in violation of Section 137 of the Crime Ordinance — living on the earnings of the prostitution of others.
"A person who knowingly lives wholly or in part on the earnings of prostitution of another, shall be guilty of an offence and shall be liable on conviction on indictment to imprisonment for 10 years," the law stipulates.
There are an estimated 1,800 sex workers working in these "one-woman" brothels in Hong Kong. About 85 percent choose to advertise online, according to Zi Teng, a rights activist NGO for sex trade workers in Hong Kong.
Ms Li, a spokeswoman for Zi Teng who does not want to disclose her full name, said "sisters" who advertise in newspapers or online have different target markets. Online advertising is easily more effective because it reaches a wider range of "first-time" customers. Websites can also publish a great deal of information at lower costs. A space the size of a beancurd costs HK$110 a day in a newspaper or HK$3,300 a month.
"Six" offers slightly lower prices than a similar site identified as "Four". Xing Zi, a prostitute who advertises on Four, pays HK$1,200 a month.
Four is also the most popular "one-woman" brothel website, and the most popular pornography website in Hong Kong. According to data from Alexa, which analyses websites all around the world, Four ranks number 54 among all the websites in Hong Kong. Another web data analysis company Updowner shows Four reaching 193,788 viewers in April, after recording 271,671 in December 2011. While Six ranks 1,267 in Hong Kong on Alexa. It recorded 17,179 clicks in April, and 21,997 viewers in December 2011.
Xing Zi, a new immigrant who married a Hong Kong man, deals with more than 10 customers a day when business is good, and five to six customers per day on average.
Ben is concerned that the number of people seeking prostitutes will take a sharp rise, owing to the abundance of online information.
"People who take no control of their sexual desires may turn more lustful if they become obsessed with these websites and then go to the brothels. If their sexual desires become proclivities, if paid sexual intercourse become a major social issue in the city, what will this society become? It will be on the wane," said Ben.
Frequent visitors to the websites, who could be husbands, or even youngsters, may in the end turn into rapists, Ben added.
And if there is enough demand, which partly generated from the handy supply of detailed information, it does pose a detriment to the next future generation, and as Ben observed, a precursor that could be brewing to become a major societal problem.
Although it is hard to track the number, partitioned cubicles used as brothels may be on the rise. Ben pointed to a few advertisements in old tenement buildings proposing that "a good many of cubicles were available and suitable as 'one-woman' brothels".
Property owners usually are not willing to lease their properties for prostitution. If there is enough evidence to prove that they have "knowingly" leased space for prostitution, they would become liable for prosecution. Sometimes estate agents lease houses to brothel operaters without the notice of property owners.
Collecting evidence is difficult, unless the sex trade workers are willing to testify in court, and specifically admit that they have paid the website to advertise sexual services, Ben said. It's not likely that any sex trade worker would be willing to undercut her own livelihood.
Li from Zi Teng, however, said there is nothing wrong with a website advertising the services of sex workers. A great many prostitutes are new immigrants divorced from their husbands. Most have brought their children with them. They are not qualified for Comprehensive Social Security Allowance during the first seven years in Hong Kong. They might pick up massage, which is how they may have made their living on the mainland, Li said.
Gradually they make the change and offer more lucrative sexual services requested by their customers. From there, it's an easy progression to a one woman brothel. "Life becomes a little better for them. The job offers flexibility. They still have time to take care of their children while making a living," Li said.
"Sexual work should be regarded as an occupation, there is nothing wrong with these sisters. And these online advertising companies create a way for them to carry on their business, generally speaking, it's a good thing.
"If these websites are shut down, it would become a headache for the sisters, because they don't have 'frequent guests'," Li said. Nor does she believe these websites could flourish to a point of creating a morally degenerate society. Ultimately if the sites are illegal, police will act. It is not that the police have never done it before, Li noted.
The spokeswoman pointed out that the websites' overseas servers may create an impediment for police, if they wanted to move to shut the sites down.
Charles Mok Nai-kwong, chairman of The Professional Commons and founding chairman of the Internet Society Hong Kong, dismissed any misunderstanding that an overseas server would block police enforcement. On the Chinese mainland and in Taiwan, many pornographic sites register their servers overseas, probably because local internet service providers would not be willing to offer services to a prostitution oriented business.
"The staff of these websites are still Hong Kong people, and they have to abide by the laws of Hong Kong — there is enough of Hong Kong connection to make them legally liable. You do not need a record of the server to prove that what the person is doing is illegal. The internet history will suffice," said Mok.
PPRB told China Daily that police will "engage with other law enforcement agencies, Government departments and key stakeholders in the industry to gather and exchange intelligence on technology crime." The spokesman added that "Hong Kong Police could request for assistance from overseas stakeholders if the content of some websites are illegal under the law of respective jurisdictions."
Guo Jiaxue contributed to this story.